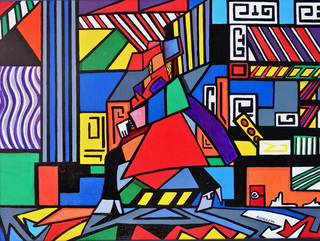 "Fifth Avenue" by Ruben Archuleta. (Photos courtesy of Agave Rosa Gallery)
"The Urban Project," a street art exhibition, will open with a reception from 5 to 9 p.m. Saturday at Agave Rosa Gallery, 905 Noble. The works are by abstract artist Ruben Archuleta, graffiti artists JAM (Matthew J. Martinez) and Juan Ornelas, and tattoo artists Francella Salgado and Luis House. The show continues through May 3. Hours are 10 a.m.-3 p.m Tuesday-Saturday. 533-8011,
info@agaverosagallery.com
.
http://www.elpasotimes.com/living/ci_25503018/street-art-at-agave-rosa