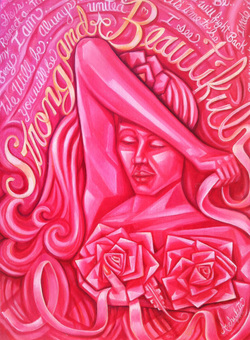 STRONG AND BEAUTIFUL
"Strong and Beautiful" - Oil on Board 18" x 24" - Breast Cancer Awareness Front Cover of Art Avenue Magazine
The front cover of Art Avenue Magazine displays a beautiful pink cover endorsing Breast Cancer Awareness for the month of October 2014.
The bold yellow ribbon signifies strength and courage. As many as 200,000 women are diagnosed with Breast Cancer every year. Support Breast Cancer Awareness by being a part of a foundation of your choice or participating in many fundraiser events:
Susan G Komen -
Learn More >>
American Cancer Society -
Learn More >>
National Breast Cancer Foundation -
Learn More >>
Save a friend and share the Signs and Symptoms information located here
>> Read More
You are Strong and Beautiful!